Projects
Introduction: 
The Foundation for Emerging Nations (FEN) was launched in March 2016. Therefore it will be some months before descriptions can be given of projects that have been supported by a FEN project grant. Projects are described under three headings:
New projects supported by FEN:
PROJECT 1. 'LAB SURFING': A RESOURCE TO FACILITATE GLOBAL EXCHANGE BETWEEN YOUNG SCIENTISTS
PROJECT 2. 'ADOPT A PROFESSIONAL': COLLABORATION TO SUPPORT THE TRAINING OF LABORATORY MEDICINE SPECIALISTS
PROJECT 3. 'AFCC AFRICA MEDLAB RADIO'
PROJECT 4. ' COMPREHENSIVE EXTERNAL ASSESSMENT OF PROFICIENCY OF MALARIA MICROSCOPSTS AND LABORATORY CAPACITY IN DISTRICTS STRATIFIED FOR MALARIA ELIMINATION IN ETHIOPIA' 
Completed projects supported by FEN:
Project 1: LAB SURFING final report - July 2017
Project 2: 'ADOPT A PROFESSIONAL'. Report from Lumbani Phiri from Zambia 
Project 3: 'ADOPT A PROFESSIONAL'. Report from José Guillermo Pereira Brunelli from Paraguay
Project 4: 'MALARIA MICROSCOPY IN ETHIOPIA'. Technical report from Desalegn Nega and colleagues
Project 5: 'FEN-SNIBE SUPPORT A PROFESSIONAL'. Report from Sibtain Ahmed from Pakistan
Similar projects previously supported by IFCC:
Background:
IFCC has a long and proud record of supporting educational projects to improve the quality of laboratory medicine in emerging nations. It was this experience that prompted IFCC to establish the FEN so that this important area of work can be given higher prominence. A small selection of such projects is given in this section to illustrate the variety of projects supported by IFCC. The map shows the geographical scope of the projects: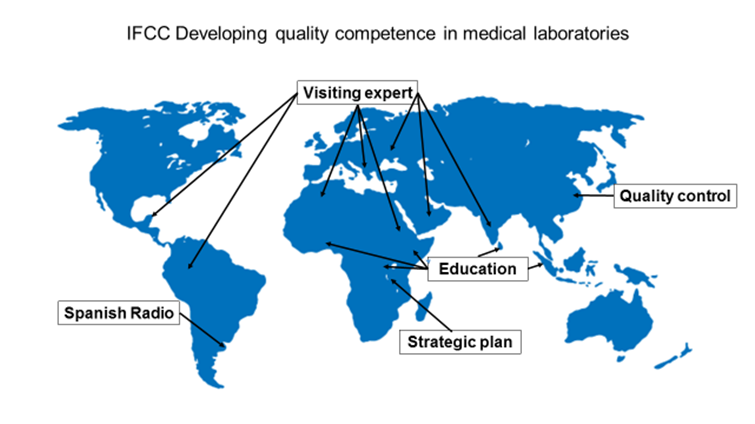 These projects do not define the limits of projects that may be funded by the FEN.
Click on the links below for description of the IFCC projects:
Pilot EQA scheme in Vietnam and Zambia
Educational Workshops in Africa and Asia
Weekly radio programmes in Spanish in Latin America
Clinical Molecular Biology Curriculum and Course